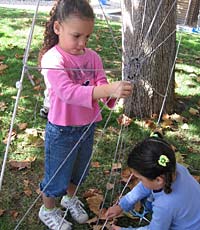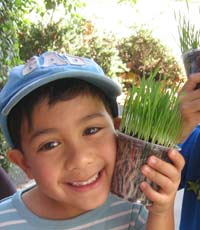 Links & Resources
Marie's latest curriculum article

Here are some of Marie, Tim and Bobbi's favorite websites and books.
E-mail Marie with ideas for additional sites and resources to include and add www.thinkingBIGlearningBIG.com to your list of favorite sites.
Curriculum information and ideas
Early Years blog Join the early childhood science community at the National Science Teachers Association blog written by Peggy Ashbrook. Peggy highlights engaging activities, provides a wealth of related resources and invites discussion about thoughtful questions. Marie highly recommends Peggy's book Science is Simple: Over 250 Activities for Preschoolers for classroom-tested science lessons such as making bubbles, separating colors, pumping water and mixing up a batch of slime.
The Center for Science Education at the Education Development Center, EDC creates programs and materials to improve and expand science education in the United States. Worms, Shadows and Whirlpools by EDC authors Karen Worth and Sharon Grollman describes and illustrates what quality early childhood science teaching looks like using teacher stories, photos and examples of children's work.
Also check out the EDC Young Scientist series:
Discovering Nature With Young Children,
Building Structures With Young Children
Exploring Water With Young Children
Find strategies for using literacy teaching in science instruction in The Essential of Science and Literacy: A Guide for Teachers
The Project Approach Get inspired about delving into topics meaningful to children through detailed examples of projects for children from PreK through high school. Also check out Young Investigators: The Project Approach in the Early Years by Judy Harris Helm and Lilian Katz, Teachers College Press 2000. The story of how projects emerge, develop, and culminate is told through teacher interviews and accounts of classroom experiences.
Bright Ring Publishing MaryAnn F. Kohl celebrates art as a process, not a product. Her activities encourage children to explore and imagine. Find sample activities, information about her wonderful books and links to resources. Marie especially loves MaryAnn's Preschool Art, Science Arts, Math Arts and no surprise, The Big Messy Art Book where you'll find directions for Wading Pool Ball Painting and Pine Bough Painting.
Justin Roberts Check out one of our favorite childrens' music performers. Marie loves to play Justin Roberts music during photo slideshows from her classroom before her presentations. She considers Justin's "Great Big Sun" her theme song.
Gryphon House, Inc. Visit the website of the publisher of Thinking BIG, Learning BIG to learn about other fun and useful books.
Dr. Toy Dr. Stevanne Auerbach, known as Dr. Toy, evaluates toys and gives annual awards based on qualities such as creativity, educational value and durability. Her book, Dr. Toy's Smart Play Smart Toys helps parents navigate the thousands of toy and play options available, giving recommendations for each age from babies to older children.
Ooey Gooey Inc. Find tons of fun ideas from Lisa Murphy, the Ooey Gooey Lady. She'll give you the language to describe how hands-on, playful activities meet standards. Her book, The Ooey Gooey Handbook includes art, science and outside play activities. PLAY...The Foundation that Supports the House of Higher Learning Book tells why kids need hands-on activities everyday.
NASA Find a wealth of information about astronauts, outer space, the moon and planets.
NOAA Learn about weather, climate change, oceans
Moving and Learning Rae Pica describes how movement benefits the whole child. Check out Jump into Science: Active Learning for Preschool Children, Gryphon House, 2009.
Illuminations Engaging math activities and lessons that make math come alive in the classroom and at home.
me + math= magic Children learn about math topics such as patterns, sorting and counting through entertaining stories that integrate math and literacy.
Mountain View Parent Nursery School Check out the NAEYC-accredited preschool where Marie and Tim teach.
An Overview of Simple Machines Marcus, a student from Upstate New York illustrates how simple machines are used in everyday life.
National Standards
Science:
National Science Education Standards, National Academies Press
Math:
National Council of Teachers of Mathematics Standards for School Mathematics Pre K- Grade 2

Language Arts:
Standards for the English Language Arts developed by the International Reading Association and The National Council of Teachers of English

Early Childhood Programs:
National Association for the Education of Young Children, (NAEYC)

American Sign Language Resources
Michigan State University Communication Technology Laboratory American Sign Language browser Videos demonstrate each word in the dictionary.
The Gallaudet Dictionary of American Sign Language, Clayton Valli, Editor, 2006, Gallaudet University Press.
Talking With Your Hands, Listening With Your Eyes: A Complete Photographic Guide to American Sign Language, by Gabriel Grayson, 2003, Square One Publishers.
Dancing With Words: Signing for Hearing Children's Literacy by Marilyn Daniels, 2001 Bergin & Garvey.
Professional Organizations
The National Association for the Education of Young Children, (NAEYC)
The National Science Teachers Association (NSTA)
National Council of Teachers of Mathematics, (NCTM)
International Reading Association